It's not often that I have a slow month, but when I do, I often head to places like PeoplePerHour to pick up some extra work. I joined the site in 2011 and have found some interesting projects using the service. In the early days, the site was far more freelancer-friendly, but in recent years changes to the pricing and bidding structure mean that the odds are against you. I'm also wondering if the site has a spam problem.
The problem with PeoplePerHour spam projects
It's not uncommon to see very vague briefs posted in poor English by someone with a profile box that looks like this.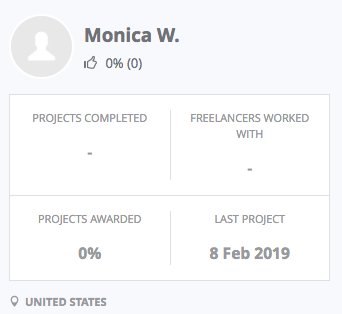 Now, I'm not saying that all people who are new to the site are spammers, but it would seem that PeoplePerHour has no incentive to keep spam jobs off their site.
If freelancers are bidding on spam jobs, then that means they are using their monthly proposal credit allocation on jobs that will never be awarded. In the past, if a job expired without the job being awarded to anyone, then everyone who bid would get their proposal credit back. Now, proposal credits reset monthly, so it's just a wasted credit. And with the introduction of "opportunity" jobs, you could stand to lose 3 proposal credits.
All freelancers start the month with the same number of credits (15) but there is the option to puchase more credits. So, of course, PeoplePerHour isn't going to mind too much if users waste their credits on fake jobs and have to purchase more to keep working on the site.
It's worth noting that some of these jobs may be genuine, and it could be the case that new users are simply trying to get quotes on work rather than actually hire someone.
What can freelancers do?
Don't forget that PeoplePerHour cannot function without freelancers, so we yield more power than you'd think. It's important to report every job that you feel is spam or problematic, rather than just moving on to the next job. It can be annoying, but this is the only way that PeoplePerHour will ever sit up and pay attention.
I only really look at the writing sector on PeoplePerHour, so I likely have a very limited view of the platform as a whole. I'd be curious to hear if you've had poor experiences with PeoplePerHour as a freelancer.