A few years ago, I started seeing a therapist to help me deal with some confidence issues. One of the things that she quickly picked up on was the fact that I was completely unable to say that I ran my own business. And when you start a freelancing business, this is sort of essential!
I would say I work from home.
Or I would say that I did a few freelance things for people.
I would tie myself in knots trying to avoid saying the obvious thing.
I run my own business.
She sent me home with a challenge. She said "the next time someone asks what you do, tell them you run your own business."
I did it, and the results were astounding.
Instead of people smiling, nodding and saying, "aww, that's cute, so you're unemployed at the moment?" people were handing me their business cards and telling me to get in touch. By saying I run my own marketing company – rather than telling them I'm a freelancer – the respect I received was life-changing.
If you want financial freedom and a sense of accomplishment at the end of the working day, running your own business can give you this. When you run your own business, every thought and action goes towards building your own future.
Basically, if you are lucky enough to be in a position to run your own business, you have a choice between working towards your own dreams or working for someone else's dream.
I recognise that being able to walk away from a job and start a business is a hugely privileged position.
The most common objection I hear when I tell people that they too should start their own business is this:
I wouldn't know where to start.
I'm lucky because I trained in marketing, and marketing is a huge part of running a business. But it isn't the whole picture. There's also the financial side and creating invoices which I had zero experience with.
I fell into running my own business and it really was a strange series of events that landed me here. But I wouldn't have it any other way. With this in mind, I'd like to share my 10 steps you need to follow to start your own business.
1. Define your offering
What does it mean to define your offering? Basically, what is it that you are going to do, and what makes you different from every other person who does this?
You might be offering goods or services, meaning you might have items for sale or you might be completing work for people. Your business might include a combination of these things. And you might have physical or digital products for sale.
If you're struggling to decide what it is that you can offer people, ask your friends and family what they think you can do better than anyone else. With the rise of coaching as a career, it's never been easier to earn from your experience.
When deciding what you want to offer, don't let a bit of competition put you off. You don't have to be the only person offering it. In fact, being the only person offering it can make it even harder to sell. You'll have to educate your audience from scratch and this is extra work.
If the market in your area is completely saturated with a particular product or service, think about how you can differentiate your own business. This might mean selling in a different area, offering a new take on the service, or offering a superior product.
For example, there is already one batting cage in the Manchester area. Rather than open a rival venue when batting cages are still relatively new in the UK, I chose to start a mobile batting cage business. This allows me to serve the whole of the UK and is a different take on the same business idea.
When doing competitor research, you can use tools like Google Keyword Planner to discover if people are searching for the item you are selling. You can define the area you want to explore and then enter the keywords that people might use to find this item or service.
For example, if you were thinking about setting up a dog walking business in Manchester, you could either limit the search to Manchester or get more specific and search the whole country for the key phrase "dog walker Manchester".
As you can see above, 40 people per month search for "dog walker chorlton" while 590 people search for "dog walking manchester" so you know there is demand.
The next step would be to discover who is already offering the service. Start your search on Google but also explore trade directories and social media. If there aren't many highly-rated dog walkers in the area, you have an opportunity to offer an upgraded service. For example, you could also offer dog boarding or dog grooming.
When it comes to defining your offering, make sure you leave no stone unturned and have a strong idea about what you want to offer before you proceed.
2. Write a business plan
I'm a huge fan of business plans as I believe they help to keep business owners on track. Your business plan doesn't have to be extensive, but it can help you to cover a lot of ground in a short space of time. You will have to dig through your competitors, decide on your pricing structure, get real about your finances and then think about how you are going to market your business.
If you're putting off writing a business plan because it's too much work, or you just want to "get on with it" then you might be going into this with the wrong mindset.
You need to approach this with a level head and with all of the facts. Writing a business plan can be liberating and empowering. It will also help you 6 months down the line when your business is growing and you aren't sure that steps to take next.
I recently shared my thoughts on why even freelance writers should produce a business plan. This blog is full of helpful hints and tips to help you navigate the world of business plan writing without making it super boring.
3. Pick a name
This is perhaps the most fun part of starting a business. This will be your first real chance to be creative. Ideally, you want to get your name right from the start. Going through a rebrand when you have any kind of online traction can be a nightmare. It's far better to get it right from the start so you can move forward with confidence.
When choosing a brand name, it needs to be memorable, easy to spell and pronounce, and it needs to reflect your brand. You might simply go with your full name as a trading name. This can be great if you're interested in cultivating your personal brand.
You might choose a witty pun or simply a descriptive name. If you're going down this route, make sure you have a quick look around online to make sure no one else has used your name.
How did I choose my business name?
I've have so much business names over the years, including 20 Something Social, How On Earth, Le Media and finally, Out Of Left Field. I spent a lot of time trying to fit in with the other entrepreneurs and come up with a name that was bubbly and fun. But really, that's not what I'm about. My business is no-nonsense. My business is down to earth. My business eats pizza and drinks light beer. My business isn't afraid to not be pink and feminine.
My business does not look like this: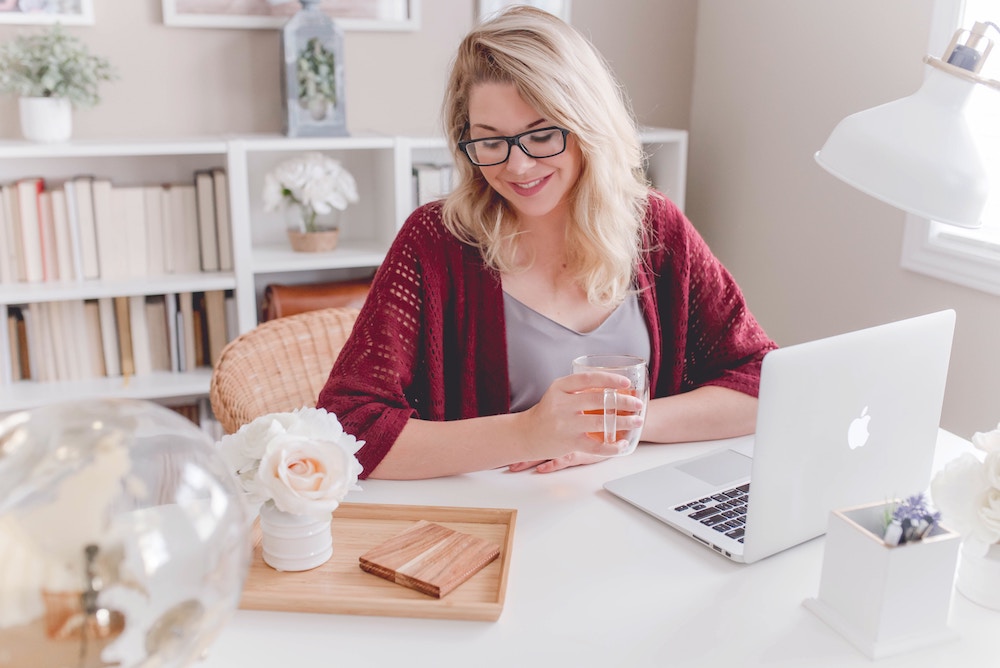 When choosing your business name, make sure that it really reflects your personality and ethos. They say fake it until you make it, but this doesn't stand for a business name. If you fake your business name, you're just going to be in conflict with yourself.
4. Build a website
Alright, now we're getting somewhere. You've got a business plan and a name. You want to start ordering business cards, but you need a few things first. Starting with a website. I don't care what business you are running, I firmly believe that you need a website to be successful.
Why?
Because you have to own the platform you build your business on. I've seen many businesses make the mistake of assuming a Facebook page is enough for their business. They can handle enquiries and bookings. It lets them run a small store. It has everything they need. Until it doesn't.
When you build your business on a site like Facebook or Instagram, you have very little control over your future. Facebook has already started to limit the organic reach for pages. Why did they do this? Because they knew that businesses would pay for it if reach wasn't guaranteed. There's no reason to believe the same won't happen to Instagram in the future. But when you have your own website, you can decide on the content and you can optimise it to show up in search engines.
Now, you might be saying: "what if search engines do the same thing?"
You're right. Google could change their algorithm at any time and turn search engine optimisation on its head. But Google's main concern is creating a strong user experience. As long as you are creating content that is valuable and relevant, you should be rewarded with relevant traffic.
When setting up your website, always go for the self-hosted option. It might seem really complicated at first, but you'll soon learn that you can ignore so much of it and just focus on the bits that are relevant to you.
Start with a reputable hosting company. I use TsoHost, and you can sign up with them using my affiliate link below. Get online with fast and flexible WordPress Hosting starting from just £1.61/mo
I was also able to purchase my domain name through this site, and this was far less complicated for me. I previously worked with Go Daddy and found their introductory rates were incredible, but a year later I was stung with extortionate fees.
Once you have chosen your domain name and chosen your hosting, you can install WordPress on your server. Once this is installed, you'll be able to log in to your site and start playing around.
The first thing you will need is a theme. You can choose a free theme and customise it, or your can purchase a theme for a small fee. Purchasing a theme will often give you access to support, and there will be less of a chance of seeing someone else running the same theme.
Customise your website with free images from these sources. When you use images from these sources, you don't have to pay or credit them. But you can offer credit, if you want to. Be wary about taking images from a Google Image Search as they may be subject to copyright protection.
You should also focus on the content of your website. Make use of H2 and H3 tags to split up your content into readable chunks. This will help your rankings in search engines. You can read my guide to managing your own SEO here.
5. Set up analytics
This might seem like an arbitrary step, but you will appreciate the effort in years to come. Google Analytics allows you to see how many people visit your website, what they are doing and what they are looking at.
To get started, you will need to head to analytics.google.com and then sign up for a free account. You can also use your Gmail account for this step if you have one. These steps change all the time, so I would recommend using the guided setup to get your account installed correctly. If you're having any trouble, drop me an email and I'll see what I can do to help!
If you want to get more advanced with Google Analytics, you could set up your own dashboards. You can also set up conversion tracking to help you see how successful your efforts have been at converting visitors.
6. Publish great content
This step is non-negotiable. Your website needs incredible and compelling content to attract visitors and help them to understand what you do and why you do it better than anyone else.
If you're struggling for inspiration on what to write about, head to SEMRush and sign up for a free account. You can then use the topic generator to discover hundreds of ideas based on what people are actually searching for. Be insightful and share your passion for whatever you do with your audience.
When your business goes live, you should have at least 5 meaty articles on your website for your audience to sink their teeth into.
Don't fall into the trap of publishing lots and lots of 350 word blogs that barely scratch the surface. You should be publishing 3000+ word articles which offer a complete overview of a topic.
Make sure you link between content to make the user experience even more intuitive.
7. Get on social media
Using social media in a professional capacity can be a blessing and a burden. You have a chance to connect with your audience and start real conversations. But it can also be a time sink.
Decide what you want to achieve on social media and then create SMART goals. This means they are Specific, Measurable, Achievable, Realistic and Timely.
Get past the vanity metrics and think about what you can really get from the platform. Build an audience and get feedback on what you are doing in real time.
You don't always have to be selling on the platform. You can use social media to reach out to fellow business owners and ask for support. There are so many great communities for small business owners out there.
8. Spread the word
You're now ready to start trading and launch your business. It's time to make a song and dance about your company. Tell your friends, family and professional network about what you do.
This is a great time to work on your elevator pitch. If you only had 30 seconds to sell your business to the person standing next to you in the lift, what would you say?
Even if you get bored of hearing your elevator pitch, remember that you're not delivering it to the same person every time. The audience is always new, and you're only taking up 30 seconds of their time. While they might not be in the market for what you are selling, they might know someone who is. Be persistent and spread the word.
When I first got started, I was so shy. I was almost afraid to tell people that I was looking for freelance work. Over time, I soon realised that everyone is so absorbed in their own lives, they don't care about what other people are doing, unless it relates to them.
This is how I learned to stop worrying about "bugging" people. If people don't care about what I had to offer, they could simply tune out. But if they're on the lookout for a freelance writer, then I could be speaking to exactly the right person.
9. Develop your processes
I wish I was a whiz at designing processes. My area of natural ability has always been in business planning. Sadly, I've never been a natural when it comes to designing processes for my business. This means that I am literally always struggling with something.
Every time invoice season comes around, I'm have to put a new hat on and try to remember how to manage my invoicing software. There are whole sections of the internet dedicated to creating processes for your business. From streamlining the enquiries process, to on-boarding clients to invoicing.
From my experience in trying and failing to set up these processes, I would say just do whatever works best for you. I spent a lot of time in my career getting obsessed with how other people do things. What works for one business might not work for another, so don't stress.
In most cases, you won't need these fancy processes in the beginning. But being aware that you can implement them in the future can be really helpful. At some point, managing incoming enquiries will get to be too much to handle and you will say, "there has to be an easier way to do this." And you will probably be right.
While some business owners swear by their complicated processes, setting these up before you've even got a client through the door can often be little more than a distraction. It's a way to fill your time being "productive" when you should really be thinking about how you are going to bring in your first customers.
So, while you should be aware that processes exist and you will one day need them, in the early stages of setting up a business, you don't need to worry about them just yet.
10. Never stop learning
When you work in a normal office job, you will have the chance to go for promotions, attend training days, or even go to conferences. When you're running your own business, this is all down to you to arrange.
If I could give one piece of advice to people thinking about starting their own business, it would be to never stop learning. You're not admitting weakness or telling people you're any less of an expert if you open yourself up to new learning opportunities.