As a professional fitness copywriter, I've learned a lot about what works and what doesn't when it comes to website copy. In this article, I'll share some of the most important lessons I've learned, including tips on how to write effective headlines, create persuasive body copy, and use Call-to-Actions effectively. I'll also include some examples of good fitness copywriting to help illustrate how to get it right every time.
Why is good fitness copywriting important?
The health and wellness sector is insanely competitive. It's also rife with misinformation and get-rich-quick money grabs. From an SEO perspective, it is subject to greater scrutiny than most other industries when it comes to the quality of content. This is because Google and other search engines are constantly working to improve the user experience by delivering relevant and high-quality results. It is classed as "your money or your life" content, which isn't a threat, but simply a way to describe content with higher stakes.
In order for your fitness brand to stand out online, you need to have website copy that is not only also optimised for search but that can also connect with your ideal target audience.
Here are 10 things I've learned as a professional fitness copywriter that will help you write effective website copy for your fitness brand:
1. Write headlines that pack a punch
You have limited space to convince and convert visitors, so use it wisely. I say this on my main Fitness Copywriting services page, but your copywriting needs to do the "heavy lifting". The headline is the first thing people will see when they land on your page, so it's important to make sure it's attention-grabbing and relevant.
2. Keep your audience top of mind
When writing fitness copy, it's important to keep your target audience top of mind. What are their needs and wants? What are their pain points? And most importantly, how can you solve them? By understanding your audience, you'll be able to write copy that resonates with them and encourages them to continue on the customer journey. If you alienate potential customers, don't be surprised if they flock to your competitors.
3. Use persuasive language
Your website copy needs to be persuasive if you want to convert visitors into customers or clients. This means using language that is both positive and action-oriented. For example, instead of saying "our gym is the best in town," try "find out why our gym is the best in town." The former is a statement, while the latter is a question that compels the reader to want to know more.
4. Write benefit-driven copy
People don't care about your fitness brand, they care about themselves. So, when writing website copy, make sure you focus on the benefits rather than the features. No one cares about the technical specifications of your gym equipment, but they do care about how this is going to translate into positive results for their health and wellbeing.
5. Use strong calls-to-action
Your call-to-actions (CTAs) need to be clear, concise, and persuasive if you want people to take action. A CTA is basically an instruction telling the reader what to do next, e.g. "book a free trial," or "sign up for our newsletter". The CTA doesn't always have to be a purchase; remember that some people aren't ready to convert. A soft CTA could be something like "download our free guide," which is still valuable to the reader and helps move them further down the funnel.
6. Keep it simple
When it comes to website copy, less is definitely more. No one wants to read huge blocks of text, so keep your sentences and paragraphs short and sweet. Use accessible language and save the jargon for another day.
7. Use persuasive images
Images are a powerful tool that can help to persuade and convert visitors into customers. People are visual creatures, so make sure your images are high quality and relevant to the copy you're using. For example, if you're writing about health and fitness, then use images of people working out. Using bespoke imagery is also recommended, as it will help visitors to connect with your fitness brand on a more personal level.
8. Optimise for SEO
In order for your website copy to be seen, it needs to be optimised for search engines (SEO). This means using the right keywords and phrases throughout your content so that it ranks highly on search engine results pages (SERPs). However, beware of keyword stuffing, which is when you cram too many keywords into your copy in an attempt to game the system. This will not only make your content difficult to read, but it will also be a turnoff for potential customers.
9. Use social proof
Social proof is a powerful tool that can help to persuade and convert potential customers. In a fitness context, this usually means sharing success stories. This could be in the form of written testimonials, video testimonials, or even customer reviews. By sharing social proof, you're effectively saying to potential customers, "look, other people have had success with our products or services, so you can too."
10. There's always room for improvement
Finally, your website copy isn't something that you should put live and then forget about. Your website is a continually evolving organism that takes on a life of its own. Update your website copy based on feedback from customers, or explore A/B testing to learn what works best for you. Just don't let your website become stagnant and dated, because the fitness industry is always moving forward.
Brands that get it spot on
1. Nike
Nike's website copy is the perfect blend of inspiration and persuasion. The headlines are direct and to the point, while the body copy is emotive and convincing. Take this example: "Find your fast." This headline immediately tells the reader what they need to do, while also tapping into their inner motivation.
2. Lululemon
Lululemon's website copy is all about the brand's mission and values. From the very beginning, the reader knows exactly what this fitness apparel company is all about. "Anything but routine." This simple yet effective tagline perfectly encapsulates the aspirational side of the Lululemon brand.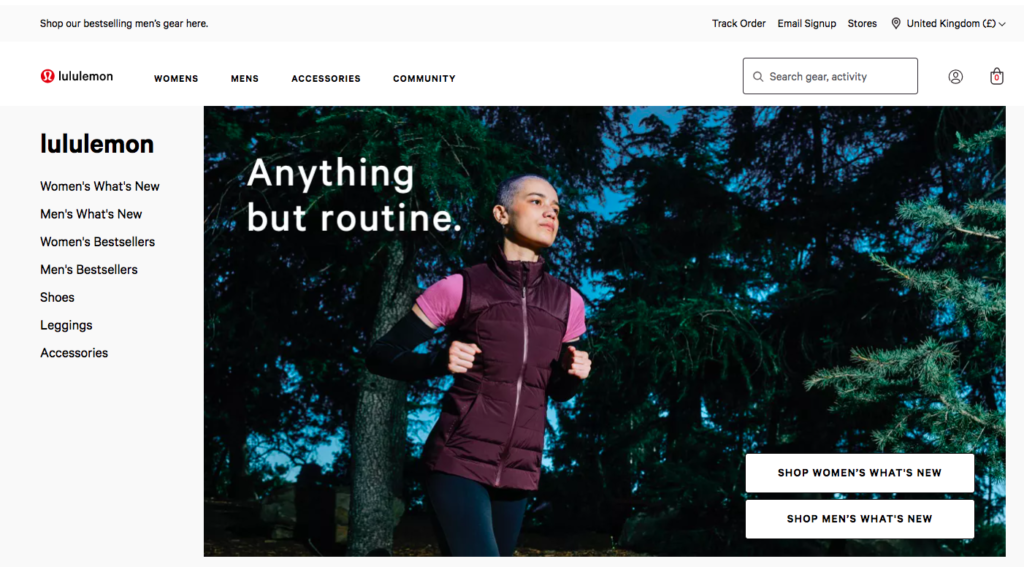 3. Total Fitness
Variety is the spice of life with this fitness brand. "Boredom is the enemy…" reminds visitors that the gym is anything but a snooze-fest when you're a member of Total Fitness. The company also does a great job of using social proof, with their member stories section.
Need help finding the right words for your fitness brand? Let's talk…